I am trying to look at raw Ethernet waveforms on my oscilloscope, but I have no idea how to set it up:
I have a pair of
RJ45-to-SMA adapter boxes (PRL-RJ45-SMA)
that allow me to carry a set of Ethernet signals over eight 50 Ohm coax cables, and then I've interrupted those 50 Ohm coax cables with a set of
differential - boxes (PRL-860Q-SMA)
that allow me to probe any pair with 10x attenuation on the scope.
So the connection between the NIC and the switch looks like:
Cat5e-->PRL-RJ45-SMA-->8x0.5mCoax-->2xPRL-860Q-SMA-->8x0.5mCoax-->PRL-RJ45-SMA-->Cat5e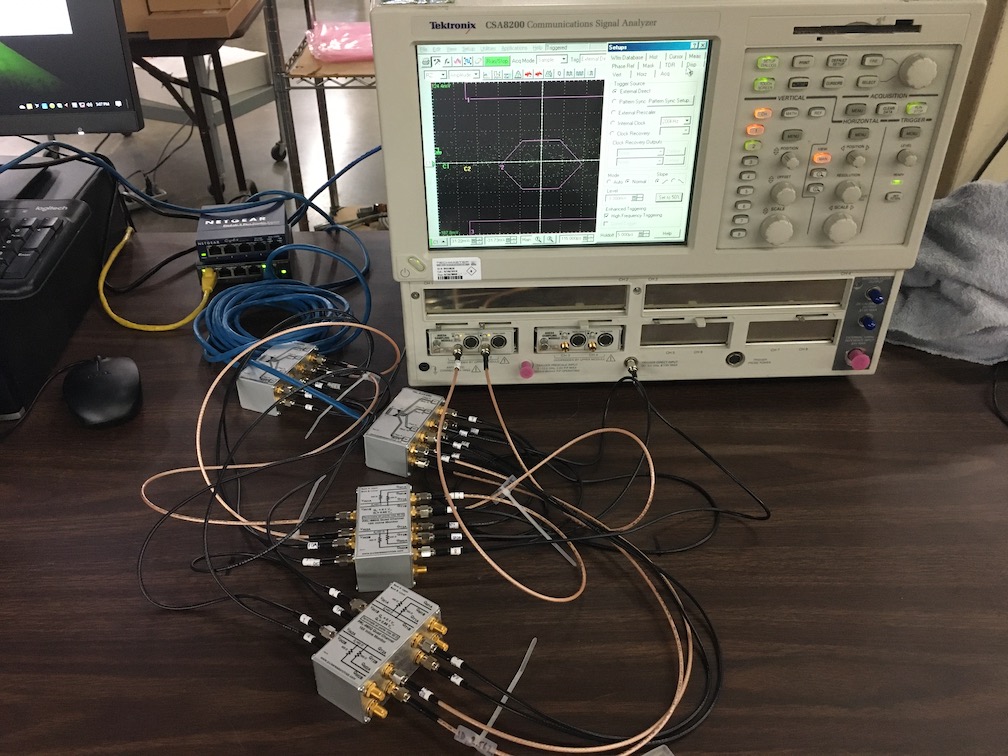 The chain of adapters and - seems to be ok, because I can successfully carry Gigabit traffic over the link. I've tested two different NICs into two different switches, and all combinations successfully negotiate a Gigabit link, and iperf reports throughput of ~940 Mbit/sec for any/all cases, which is the same as I get if I remove my gaggle of adapters and just connect the NICs directly to the switch.
I have one differential pair from the - going into my scope (CSA8200 with 80E04 sampling head), but I have no idea how to set up triggering, so all I have is a cloud of dots
If I go into the Trigger menu and choose Pattern Sync, it says "Pattern Sync Module not available," but when I go to the Mask menu, I can apply a Mask for Gigabit Ethernet.
Do I need to buy some sort of license module in order to trigger on Ethernet? Or am I just doing it wrong?
I want to see PAM-5!!! And eventually I want to do this with 10GBaseT signals.
Thanks!